Amateur Radio Station F4KKE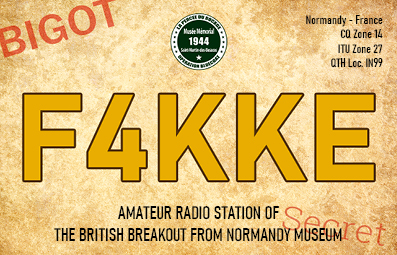 Amateur radio station F4KKE
André Heurtevent and Jean Caby Memorial Radio Club

Radio transmissions played a very important role during the Second World War, whether they were military or civilian. The Museum of La Percée du Bocage devotes a good part of its commentary to this subject.

To complete this information, in 2017 we installed a functional amateur radio station to make our explanations more lively.

Being, according to the administrative terminology, a "radio-club", the station is open to all duly authorised radio amateurs. Its role is of course to exchange information about the military equipment of the time, to transmit knowledge of radio electricity and to train future operators who wish to take their amateur radio exam.

The radio station also ensures the international influence of the museum, thanks to the numerous contacts made each year.

The station is duly authorised to use all the frequencies allocated to the Amateur Service, but we are only equipped for shortwave traffic.

The call sign F4KKE has been allocated by the administration. This is the call sign we use for everyday traffic. However, we sometimes request temporary callsigns for events related to the museum.

For example, we commemorated the 80th anniversary of General De Gaulle's BBC Appeal of 18 June 1940 with the special call sign TM80CDG in June 2020. More than 2,000 contacts were made on this occasion, with more than 120 countries, the most distant of which was New Zealand.

Every year around 31 July, at the time of our Liberation Day, we use the special call sign TM11AD in memory of the soldiers of the 11th British Armoured Division.

The radio club also runs activities for younger children and is able to run exam preparation courses. We also take part in traffic competitions (French championship, World championship...) during which the club often reaches the top of the rankings.